---
BRMB traditions
Our band is built heavily on tradition. From aardvarking to parading and everything in between, if we do it twice, its tradition. This page is still being developed, but keep checking in.
Alumns, if you remember a tradition that doesn't appear here, email the webmaster and it'll be added, either to this page or to a future "Retired Traditions" page.
For now, you can help our history page develop by submitting a story to the historians.
Aardvarking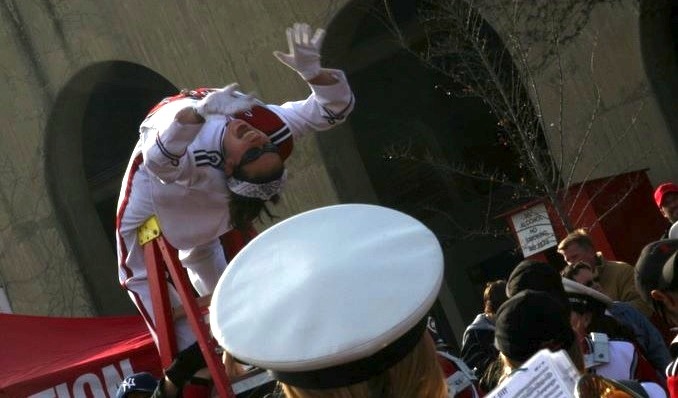 The aardvark's origins are shrouded in mystery; legend has it that it was born in the early '60's. As originally performed, the aardvark was executed upright with the hands wiggling next to the ears. It has since evolved into a display during which the aardvarker, suspended from a railing, ladder, or other fixed object, warbles a series of shrill, upper register pitches as they bend their spine backward and shake their arms wildly. No one is certain why this traditional exhibition was named after the burrowing, insectivorous mammal native to South Africa.
Postgame Concerts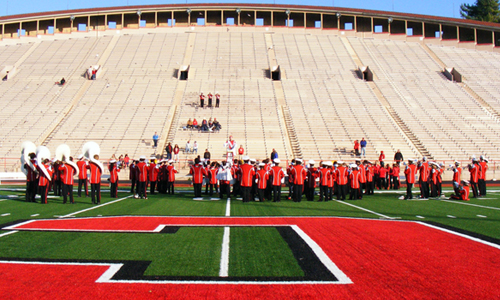 For several years, Cornell's Big Red Band was content with merely putting on its halftime shows at football games. In 1947 it expanded these activities--as a result, oddly enough, not of public demand but of an unfortunate incident which occurred during a gridiron encounter.

In this particular game, a top-notch sophomore quarterback named Pete Dorset completed an amazing ten out of ten passes to lead Cornell to an upset 28-21 victory over Princeton at Palmer Stadium.

After the game, the jubilant members of the Big Red Band commenced to file out with the crowd as usual. But feeling was running high among the disgruntled Princetonians, and the band was beset by hecklers. One Tigertown student snatched a trumpet, and another attempted to wrest a tuba from its owner. Soon the band found itself involved in a small-scale riot.

Of course things quieted down quickly, and the incident was soon forgotten. But the next time the Big Red Band appeared, it remained for an impromptu concert until the main body of spectators had filed out. The concert proved such a success that it was made a regular part of the band's schedule.

Thus was born one of the traditional activities of the Cornell football season.

--From the Cornell Daily Sun, November 18, 1954
Victory Hats
At the end of each winning football game, band members turn their hats around 180 degrees, and there they remain until removed at the end of the performing day! That means they stay backwards throughout the Post-Game Concert, and along the parade route out of the stadium. We don't know where this started.
Parading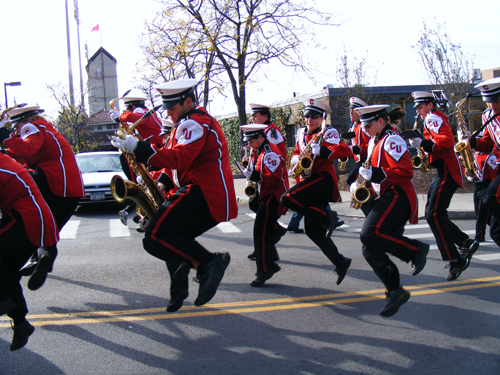 The Band, like a mammoth 18-wheeler, needs to travel. Unlike an 18-wheeler, we're big (well, biggER). To manage such a large vehicle, we traverse the grounds of Cornell (and anywhere else) in a four-by parade formation. Over the years, the different sections have evolved different traditions/songs to go along with the percussion cadences. One thing the band as a whole can agree on is the playing of our fight song, Davy, as we pass by large tour groups, eager tailgaters, or as we pass through Willard Straight Hall, the Campus Store, or numerous other campus locations.
Page 1 ... Page 2
---