---
Alumni Band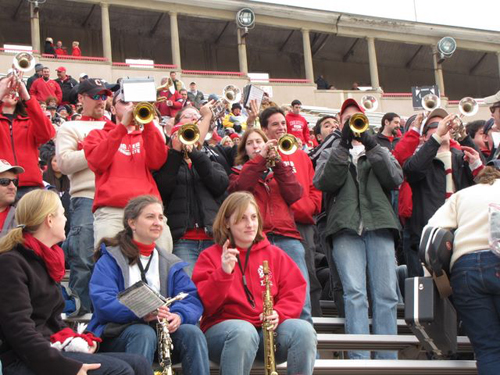 Each Homecoming weekend, Big Red Band alumni return to Ithaca, brush the cobwebs from their instruments, and join the Big Red Alumni Band. The first Alumni Band in 1982 was the brainchild of Drum Major Dwight Vicks III and Head Manager Bob Geise. The band grows in size each year as bandsmen from seven decades renew old friendships and find common bonds with fellow bandies from other eras.
Duct Tape Appreciation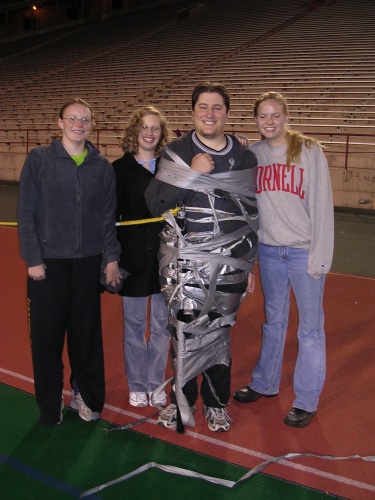 We love Duct Tape. Seriously, you can do anything with it. So for one glorious night each Fall, we show our appreciation for it by taping everything and everyone we can get our hands on. Will you be prepared?
Trumpet Pushups & Flute-ups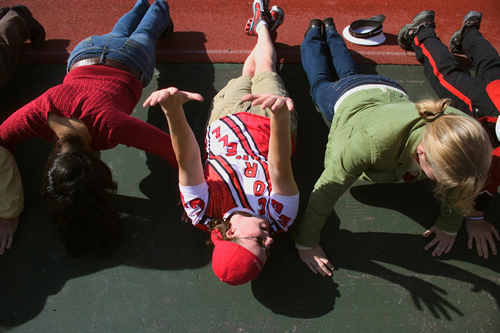 This picture reproduced with permission of University Photography. It originally appeared on the front page of the Cornell Chronicle, October 20, 2005. Pictured is Susie James '04, Tori Ball '05 and Lora Root '04.5

Our trumpet section consists of manly men and strong women, so they like to demonstrate their strength by doing pushups whenever the football team scores.
Not to be outdone, the flutes have "flute-ups" and and saxes have "sax-ups". The flutes toss a member of the section up in the air and the saxes raise their horns for each point scored.
Page 1 ... Page 2
---